Founded in 1933, the Canadian Society of Biblical Studies is the oldest humanities academic society in Canada. Our meetings, opportunities, and networks enable an ongoing heritage of Canadian scholarship on the Bible.
Who are We?
The CSBS membership includes academics at Canadian universities and around the globe, a vibrant graduate student body, and pastors, priests, and rabbis. Our membership leads in research across the many corpora and cultures related to the study of the biblical texts from their origins through antiquity. CSBS members actively uncover new insights and perspectives on these writings, using a diversity of classic to contemporary research methods.
Where do we Meet?
The CSBS Annual Meeting enables research creation and dissemination through program presentations, seminars, sponsored lectures, and informal conversations. The Annual Meeting takes place in the spring as part of the Congress of the Social Sciences and Humanities. This annual events also provides professional development opportunities for student members, student essay prizes, and awards for books written by active members.
What are the Benefits?
Membership in a community of students and scholars leading in Canadian teaching and research on the Bible.
Eligibility for full participation in the Annual Meetings, including a combined program with five other religion societies also participating in Congress.
Support for student members and emerging scholars, including student essay prizes and funding for research travel from the Sir Robert Falconer Fund.
Research recognition in the form of book awards (the Frank W. Beare Award and the R. B. Y. Scott Award) as well the Norman E. Wagner Award for innovative use of technology.
Subscription to the journal Studies in Religion/Sciences Religieuses and access to editors of the Society-sponsored book series, Studies in Christianity and Judaism (McGill-Queens University Press).
Monthly emails on Canadian conferences, publications, and job opportunities.
Annual updates in the Bulletin, including comprehensive coverage of member research contributions, reports of the Annual Meeting, and publication of the Presidential Address.
Member dues can be conveniently paid online via PayPal. Please click on the appropriate box below. Membership includes a subscription to Studies in Religion/Sciences Religieuses. If you already receive the journal through another Canadian society, you are eligible for dual membership in CSBS at a reduced cost not including subscription. Note that the fee structure below includes a modest PayPal processing fee (2.9% + $0.55).
Members of the Society receive the journal Studies in Religion / Sciences Religieuses, which offers a refereed publication outlet for articles in our fields of study. In addition, McGill-Queen's University Press publishes two academic book series: 1) Studies in Christianity and Judaism publishes volumes dealing with Christianity and Judaism in their formative periods, with special interest in studies of the relationships between them and of the cultural and social contexts within which they developed; and 2) Advancing Studies in Religion catalyzes and provokes original research in the study of religion with a critical edge. The series advances the study of religion in method and theory, textual interpretation, theological studies and the understanding of lived religious experience. The Society annually awards Awards/Prizes: two for student essays and three for publication and research in our fields of study.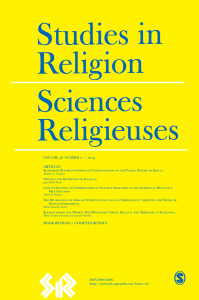 Les membres de la Société reçoivent la revue Studies in Religion / Sciences Religieuses, qui leur offre un débouché avec comité de lecture pour leurs articles dans notre domaine. De plus, Les Presses de McGill-Queens publie deux académique série de livres: 1) Les études dans le christianisme et le judaïsme publie volumes traitant avec le christianisme et le judaïsme dans leurs périodes de formation, avec un intérêt particulier dans les études sur les relations entre eux et des contextes culturels et sociaux au sein de laquelle ils ont développé; et 2) l'avancement des études en religion catalyse et provoque une recherche originale dans l'étude de la religion avec un bord critique. La série avance l'étude de la religion dans la méthode et la théorie, l'interprétation textuelle, études de théologie et de lacompréhension de l'expérience religieuse vécue. La société de l'an bourses Prix / Prix: deux pour les travaux d'étudiants et trois pour la publication et de la recherche dans nos domaines d'études.
Report of the CSBS Ad Hoc Committee for Review of the Purpose and Functioning the Society
(Members only)